The IXPE Detector Unit (DU)
The IXPE focal plane Detector Units (DUs) and the Detector Service Unit (DSU) were supported by the Italian Space Agency and developed by INAF-IAPS and INFN and were manufactured by OHB-IT.
The IXPE payload consists of a set of three identical telescope systems. Each system, while operating independently, comprises of a 4-m-focal length Mirror Module Assembly (MMA) that focuses X-rays onto the respective Detector Units (DUs).
The DU housing is composed of two boxes. The top one is the "GPD housing". The bottom item is the "Back-End Housing".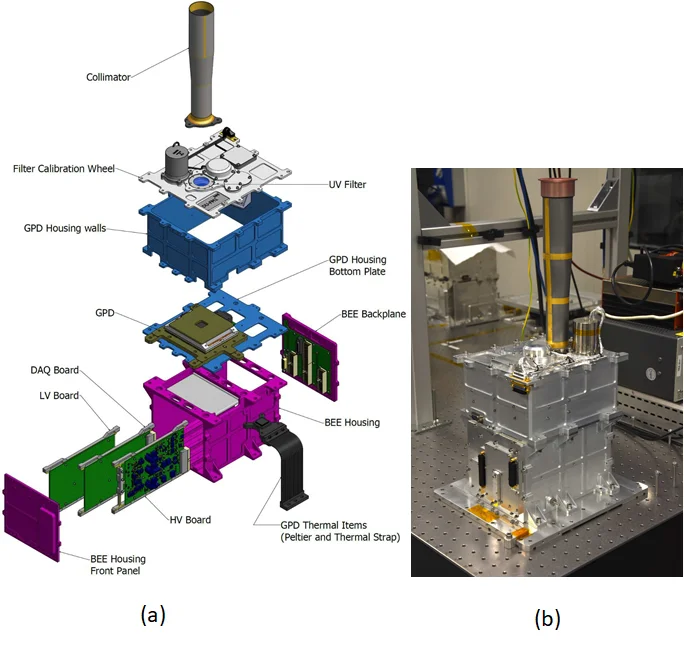 Each of the four DUs (included one spare unit), comprises the following sub-Units:
Gas Pixel Detector (GPD), which is an X-ray detector with gas as the absorption medium and a custom ASIC as the readout electrode, specifically developed by INFN in collaboration with INAF-IAPS for X-ray polarimetry.
Filter & Calibration Wheel (FCW), which hosts the calibration set comprising calibration sources and filters for specific observations to be placed in front of the GPD when needed.
Back End Electronics (BEE), which comprises of electronics boards (DAQ, Data Acquisition Board to manage the GPD ASIC), the required High Voltage lines and the Low Voltages lines.
Stray-light Collimator (STC), already mentioned above.
DU Housing (DUH), which provides the mechanical and thermal interface of the DU to the S/C.
DU wiring (DUW), which provides the electrical interfaces (internal to the DU) between the BEE and the GPD.
The DSU is the unit which provides the DU with the needed secondary power lines, controls and powers the FCW, formats and forwards the scientific data of the three DUs to the spacecraft. The DSU comprises of the following sub-Units:
a DSU Board Set (DBS), which is the set of electronic boards (both nominal and redundant) which perform the DSU tasks;
the DSU Software, which comprises the software which runs in the DSU;
a DSU Case (DSC), which includes a back-plane that provides the electrical interface among the DSU boards. Further, the DSU Case provides the mechanical and thermal interface of the unit;
the Harness DSU to DU, which comprises the cables necessary to electrically interface the three DUs to the DSU.
Updated on September 7, 2021